HRANI takes up the issue of Non-Issuance of Commercial Airport Entry Permits ( T- Pass) with Ministry of Civil Aviation.

A delegation led by Mr. Garish Oberoi, Treasurer HRANI comprising Mrs Renu Thapliyal, Secretary General, HRANI, Mr. Nitesh Gandhi, General Manager, JW Marriott New Delhi Aerocity, Mr. Bhupinder Singh, Airport Operations Manager, JW Marriott New Delhi Aerocity, & Mr. Sumit Kapoor, Airport Manager, The Leela Palace met Sh. Pradeep Singh Kharola, Secretary, Ministry of Civil Aviation, Govt of India today.
The delegation informed the Secretary about  the concern of 4 star and above hotels on new AEP guidelines 2019 issued by BCAS under Ministry of Civil Aviation, Govt of India.
The delegation shared with the Secretary Ministry of Civil Aviation that The Bureau of Civil Aviation Security (BCAS) under Ministry of Civil Aviation (MoCA) has unveiled the new Airport Entry Permit (AEP) guidelines 2019 on August 2, 2019 wherein as per para 9.7 of said guidelines, the issuance / re-issuance of the commercial Airport Entry Permits have been abolished. As a result all commercial AEP issuance / re-issuance has been stopped.
A detailed representation was submitted. The Secretary, gave a patient and positive hearing. He assured the delegation that the issuance of passes will not be stopped but the number of the same will be reviewed. He requested the association to work out a proposal in  consensus with hotels so as the ministry/BCAS can come up with a  more acceptable guidelines.

HRANI Conducts Food Safety Supervisor Training in New Delhi.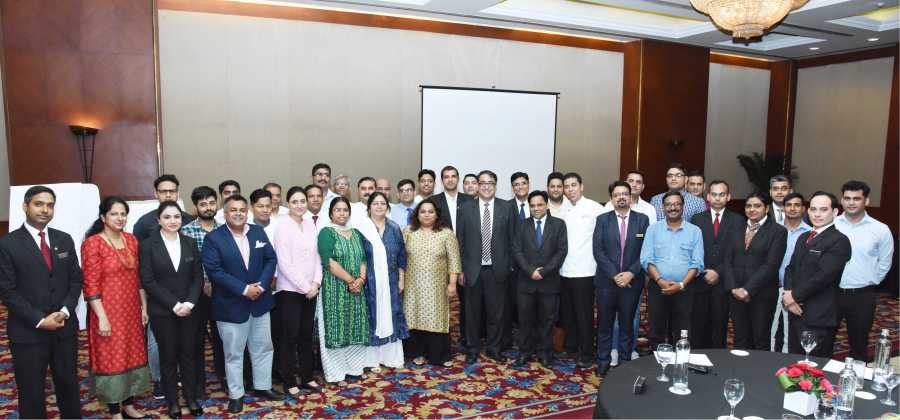 HRANI successfully concluded its latest Food safety training and certification session at Eros Hotel, New Delhi on October 5, 2019 The session witnessed full participation of food handlers from Delhi & also out of Delhi. The faculty for the session was Ms. Pritha Tripathi, Scientist (IV), (Training), FSSAI.
All participants were informed that the Food safety training and certification is an important topic for food handlers as it is mandatory for all food business operators that have Central or State Licence of FSSAI to have at least one trained and certified food handler for every 25 food handlers in all their premises. The participants were further apprised that FoSTaC certified Food Safety Supervisor will be a conduit between FSSAI and the Food Business Operator.
Mrs. Renu Thapliyal, Secretary General HRANI sensitized the participants about various types of Competence based certification programmes available under FoSTaC and the duration of each course which is of eight to twelve hours spreading over one to two days. She also pointed out some difficulties faced by trainees during registration process & requested the team of FSSAI to update the FOSTAC portal as user friendly.
Apprising the participants Mrs. Thapliyal also discussed with the trainees & trainer about Hygiene Rating & RUCO.
The session was well attended.
About Us
Hotel and Restaurant Association of Northern India (HRANI) is the northern wing of the Federation of Hotel & Restaurant Associations of India (FHRAI) - an apex body of the hospitality sector. HRANI, founded in 1950 by Legend Rai Bahadur M.S. Oberoi, represents hotels, restaurants, tourism industry & travel trade of all nine states of Northern India i.e. Delhi, Rajasthan, Himachal Pradesh, Punjab, Jammu & Kashmir, Uttarakhand, Haryana, Chandigarh and Uttar Pradesh. It was conceived with an idea to give Hoteliers and Restaurateurs in Northern India a common forum for interaction. With an active membership base from the hospitality industry and allied sectors, HRANI is assisting its members to create a conducive environment to tap the vast potential of hospitality industry in Northern India.
For advertising in HRANI Hospitality Flash, write to hrani.1950@gmail.com or
call +91 011-26468103, 26433590
Mailing Address :
Hotel and Restaurant Association of Northern IndiaCIN No.: U55101DL1952NPL002161 406/ 75-76, Manisha Building, Nehru Place, New Delhi-110019 Telephone: 91-11-26468103, 26433590, Fax: 91-11-26236201 E-mail: hrani.1950@gmail.com
Copyright © 2019 Hotel and Restaurant Association of Northern India, All rights reserved